Buy High-Quality Bean Bags in Pakistan
Are you considering adding a bean bag chair to your home? Bean bags aren't just for kids anymore, and they can be a fun and comfortable addition to any room. But with so many options available, it can be difficult to buy high-quality bean bags in Pakistan. 
Bean Bags as Alternative Furniture
Bean bags are a popular alternative furniture option for those who want something comfortable, versatile, and stylish. Unlike traditional chairs and sofas, bean bags offer a unique way to relax and unwind.
One of the great things about bean bags is that they come in various sizes and shapes to fit almost any space. From small bean bags that are perfect for kids' rooms to larger ones that can accommodate adults, there is a bean bag to suit everyone's needs.
Bean bags are also highly customizable, with various colors and fabrics. So whether you prefer a classic look or a more modern style, there is a bean bag. Some bean bags even come with removable covers, allowing you to switch up the look of your furniture efficiently.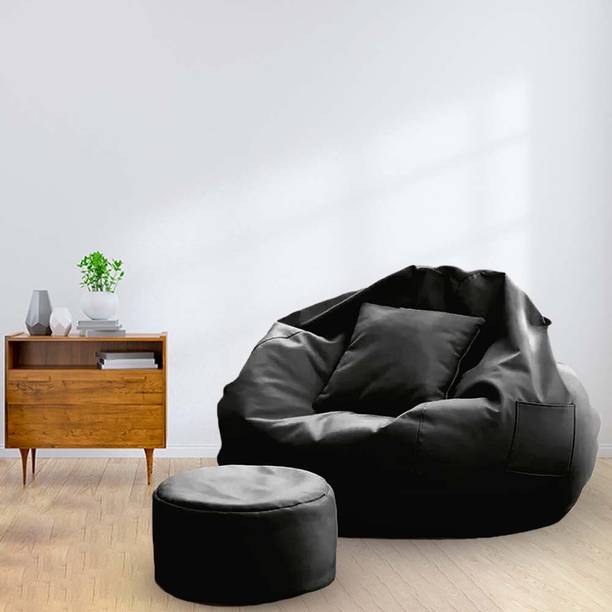 Another benefit of bean bags is that they can be used for various purposes. Whether you want to relax while watching TV, play video games with friends, or even nap, a bean bag can provide the perfect spot. They can also be used outdoors, making them a great addition to patios, decks, and other outdoor spaces.
Tips to Buy High-Quality Bean Bags in Pakistan
Bean bags are a popular alternative to traditional chairs and sofas, offering comfort, style, and versatility. If you're looking to buy high-quality bean bags in Pakistan, you should keep a few things in mind to ensure that you get the best product for your needs.
Consider the Size
Bean bags come in various sizes, so choosing one that fits both your space and your body is important. For example, a 5-foot bean bag chair is usually comfortable for adults and can fit in smaller spaces. However, consider an extra-large 6-foot bean bag chair if you want a larger option.
Choose the Right Material
Traditional bean bags were filled with small bean bags or Styrofoam balls, but now better options are available. The shredded polyurethane foam filling used in our bean bags is comfortable and durable.
Check the Durability
You don't want your bean bag chair to become flat after several uses. Look for durable materials that can withstand regular use and child-proof double-stitched covers.
Consider Washability
Accidents happen, so choosing a bean bag chair with a removable and washable cover is essential for easy cleaning.
Think about Usage
How will you use your bean bag chair? Will it be for reading, playing video games, or snuggling with a loved one? Consider the fabric and size of the chair based on your usage.
If you want to buy high-quality bean bags in Pakistan, you might wonder why you should choose us. Here are a few reasons why:
Quality Materials
We use only high-quality materials to construct our bean bags. We use premium-grade fabrics that are both durable and comfortable, and our bean bag filling is made of 100% shredded polyurethane foam, designed to hold its shape and provide lasting support.
Variety of Designs
We offer various bean bag designs, from classic round chairs to modern and stylish lounge chairs. Our bean bags are available in multiple sizes, colors, and materials so that you can find the perfect match for your home décor.
Customizable Options
At Chahyay, we also offer customizable options for our bean bags. You can choose the fabric, color, and size best suits your needs. Plus, we can add personalized details, such as logos or embroidery, to make your bean bag unique.
Read more:  Kids Bean Bags
Affordable Prices
High-quality furniture shouldn't have to break the bank. That's why we offer our bean bags at affordable prices without compromising quality. Plus, we often have sales and promotions that can make our bean bags even more affordable.
Bean bag chairs are a versatile and fun addition to any home. With these tips, you can choose the perfect one for your needs. So embrace your inner child with a cozy and comfortable bean bag chair from Chahyay.